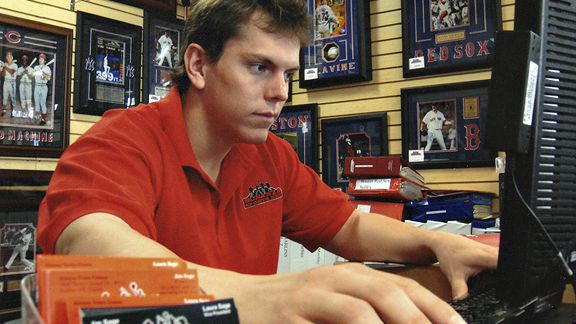 Courtesy of Bonanza Sports Logan Morrison was a "star employee" at Bonanza Sports in Jupiter, Fla.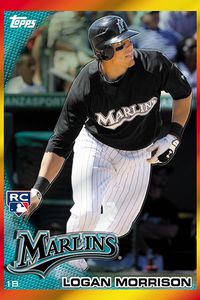 Topps Morrison, a rookie, already has appeared on more than 90 cards.
If you had met Florida Marlins outfielder Logan Morrison a year ago, he probably would have handed you his business card.
The rookie is hitting close to .300 these days for the third-place Marlins, but this past offseason he spent his downtime working as a salesman at Bonanza Sports, a sports card and memorabilia shop in Jupiter, Fla., owned by Jim Sage.
So while Morrison has traded that business card for his baseball card, you can still find him pretty easily -- at the ballpark, on Twitter (LoMoMarlins), maybe on a few fantasy teams and even on a regularly appearing "Lunch With LoMo" regional television segment. His life has changed dramatically, but he doesn't feel a world away from where he was last winter.
"It doesn't feel like a long ways away from the card shop," Morrison said in a recent phone call from Florida. "I mean, that's all different, but I still talk to Jim and have great conversations. And he'll come to games, too."
Sage called Morrison his star employee.
"Logan is very outgoing, humble and friendly with all the customers," Sage said. "It was always awesome when people would walk into the store and recognize him, he would always have a huge grin on his face."