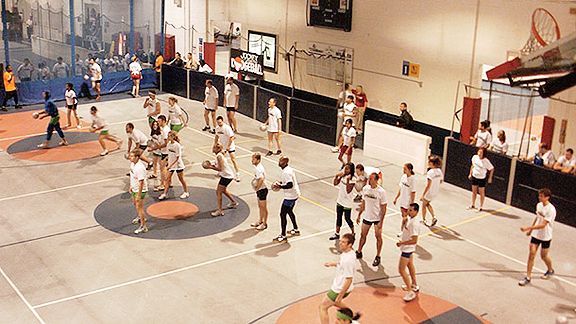 Jack McCarthy About 100 people came together in their underwear to play in a charity dodgeball tournament.
CHICAGO -- So what if it's not good enough for Guinness?
A self-proclaimed record for the "World's Largest Dodgeball Game Played While Wearing Underwear" is just fine with organizers of Saturday's event. The chance to play sports in skivvies drew more than 100 participants who donned boxer briefs for spirited and sometimes cutthroat dodgeball. Sponsored by Kenosha, Wis.-based Jockey International Inc., the event also helped raise funds and awareness for prostate cancer research.
"Dodgeball is one of those sports that seems to be trending really popular," said Mo Moorman, Jockey's director of public relations. "So we wanted to make an event out of this and try to set a world record and have everyone wear [the company's new] sports performance underwear."
The company had hoped more than 1,200 players would show up to break the Guinness World Record for a single game of dodgeball. Despite the low turnout, Jockey said it would donate $10,000 to prostate cancer research.
Saturday's crowd included a collection of predominately 20-something men, many quite comfortable hanging around in their underwear.
Mark Willoughby came with a group of friends and was costumed as the TV character Tinky Winky from the children's series "Teletubbies."
"We like to get involved in anything for charity," said Willoughby, a 27-year-old Detroit area native and active recreational athlete. "I'm a big target, but I'll be all right."