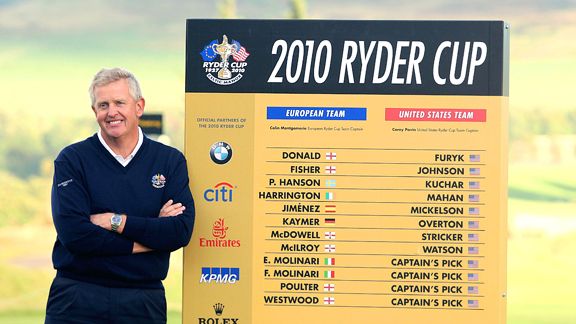 AP PhotoEuropean Ryder Cup Capt. Colin Montgomerie isn't in the top 10 jokes, but some other golfers are.
Hard to say how many of you are going to get up early to watch the Ryder Cup when it begins on ESPN at 1:30 a.m. Friday or watch it on tape delay later Friday, plus tape-delay Saturday and live again Sunday. But we do know one thing -- you sure know a lot of golf jokes.
Here's one apparently everyone knows:
Frank and Carl on the 15th green when a funeral procession slowly passes by just outside the fence surrounding the golf course. Frank, who was about to putt, stops and stands at attention with his right hand on his chest until the procession has passed by.
"I'm surprised," Carl said. "I never knew you were that sensitive."
"It's the least I can do," answered Frank. "After all, I was married to her for 35 years."
My friends, 31 of you submitted that one, so we were forced to disqualify it simply because it must be the most repeated golf joke on the planet.
We also had to disqualify other jokes because they went a little too far in one direction or another. Maybe the time will come when we can produce the cable version of these top 10 blogs but right now we are more network in nature.
Hopefully some of chosen top 10 will be new to you and you can pass them on to your friends. That's the way jokes work -- or not.