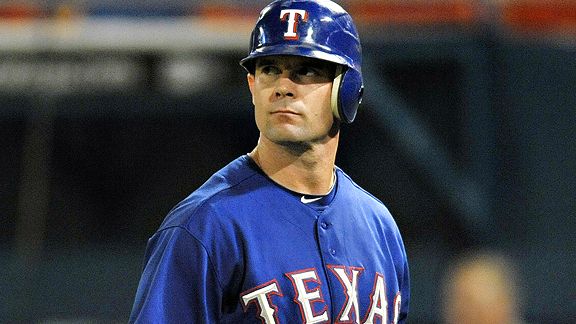 Steve Mitchell/US PresswireMichael Young doesn't care who he plays ... he's just happy to be in the playoffs.
Michael Young joined ESPN Radio Dallas with Galloway and Company to discuss the playoffs and the biggest dinner bill he's ever made a rookie pay.
On whether making the playoffs is more special to him than anyone else because he's been in Texas for 10 years:
"Well it was special. I don't know if it was more special than anybody else, but it was definitely special. To put in 10 years with one organization and finally get rewarded with an opportunity to play in the postseason is something that I've been waiting for. I was hoping it would be really sweet and it was better than I imagined."
On which team he wants to play in the Division Series:
"I think we're watching [the race] now, but we didn't follow it at all until we clinched, ourselves. Once we did, we're following now just to find out where we're going to go. We really don't care who we play. We know that any team we play is going to have homefield advantage, so it doesn't really matter. We know it's two good teams just like we know we're a good team. Once you get into the postseason, you know you're going to play a good team. ... For us, I know we really don't have a preference, we just want to know where we're going to go."
On the biggest bill he's ever hit a rookie with:
"I've never hit a rookie with a bill for dinner, actually."
On reaction to Dez Bryant picking up the tab for a $55,000 dinner for his teammates:
"Reaction to that one was I think he probably had a little B up his you know what and had to get him back. Football is a little different than baseball, I guess. I wouldn't do that to a guy. The only thing I've ever done is, some hotels you can put a room service thing on the front of your door so you don't have to call in the morning. I put it out in front of one guys door for about 16 omelets."
• Click here for a transcript of highlights from the interview