CHICAGO -- Whether it was because the celebration was 49 years in the making or just a matter of personal taste, the
Chicago Blackhawks
' eight-carat Stanley Cup championship ring dwarfs its predecessors.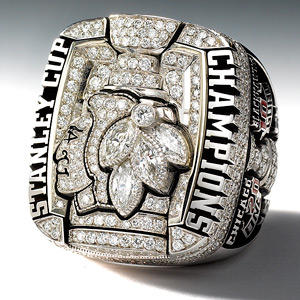 Courtesy of JostensThe 8-carat Blackhawks' championship ring has 404 diamonds.
The team presented the rings at a ceremony Wednesday night.
"I was sitting next to [coach Joel] Quenneville, and he showed me his [1996 ring] from Colorado," Hawks winger Troy Brouwer said. "And ours is so much bigger and nicer.
"But that's how the Blackhawks do things around here, first class."
The ring includes the Hawks logo, their "One Goal" motto, and the years -- 1934, '38, '61 and '10 -- the Hawks won the Cup. It has 404 diamonds.
"It's just huge," Brower said. "I think it's twice the size of any other ring that's been made. It weighs your hand down. It's pretty enormous, something you'll definitely treasure for a long time."