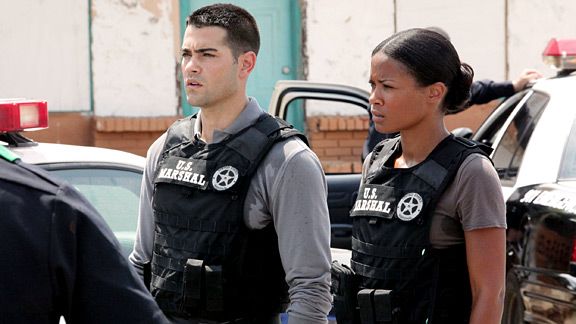 AP Photo/NBCJesse Metcalfe and Rose Rollins star in "Chase," a TV show about U.S. Marshals.
If you ask Jesse Metcalfe, there's only one job that tops being an actor in his book.
If he weren't co-starring in NBC's new procedural police drama, "Chase," he'd be a professional softball player. Yep. You read that right. Softball.
"Hey," Metcalfe says laughing, "if I can get paid to play softball, that'd be awesome. I always said the only job better than being an actor is being a professional athlete."
He's partly serious. When Metcalfe, 31, and his "Chase" castmates (the show airs Monday nights at 10 p.m. ET) aren't running lines or figuring out stunts, they're playing some local dudes in Dallas -- where they film -- in a softball league. So far, their team is 3-1, and he says it's on fire.
Know what else is on fire? Playing a U.S. Marshal -- pretty intense business, he says.
What made you want to be a part of "Chase?"
"I wanted to do something with a little edge, a more mature role that had a certain amount of physicality to it. I wanted to get away from that sort of teen-y, kind of boytoy image that I had, and it was a great opportunity -- a Bruckheimer production -- an action show where I get to play a U.S. Marshal, so it was perfect."