If you collected baseball cards at one time or another, one name probably comes to mind first -- Topps.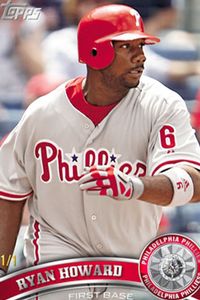 Courtesy ToppsRyan Howard is part of the 2011 series for Topps.
After all, the company has only been around for 59 years and counting so that's a lot of cardboard and a lot of memories. In 2011, the longest-running manufacturer of officially licensed MLB trading cards will celebrate the 60th anniversary of its first set, and there's only one fitting way to mark that milestone.
Diamonds.
The company's diamond anniversary will be noted on each and every mylar pack and collectors who find one of Topps' Diamond Giveaway cards inside will have a chance to own a one-of-a-kind baseball card with an actual diamond attached.
While there will be countless nods to the past and subsets celebrating Topps' history, it will be these code cards, found one in every six packs, that will unlock the true gems.
The Diamond Giveaway cards will direct finders to a website, www.toppsdiamond.com (currently under construction), where they can enter a code. Most fans probably will find a Topps card from the past -- cards from 1952-2009 will be unlocked -- while others will find a Diamond Die-cut card (a card cut with the shape of a diamond).
A lucky few, though, will unlock one of just 330 Series 1 cards with a diamond embedded into the cardboard. Each is stamped as a 1/1 -- as just one copy of each player's card will exist.
What kind of cash might these extra-special cards command? We'll have to wait and see when 2011 Topps Baseball arrives in February.