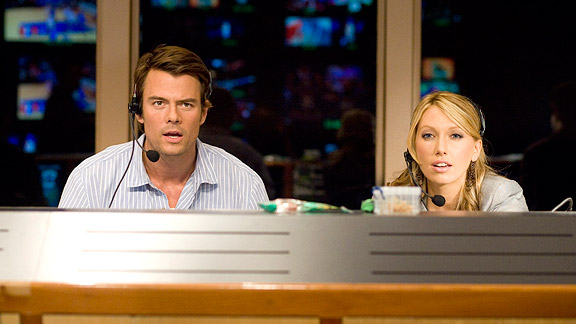 Courtesy of Peter IovinoJosh Duhamel, along with Brooke Josephson, stars in the romantic comedy "Life As We Know It."
In high school, Josh Duhamel wanted to play pro basketball.
In college, Josh Duhamel wanted to play pro football.
But then reality set in.
"I realized I wasn't athletic enough to do either!"said the 37-year-old Duhamel, who traded that in to become a model and then an actor.
Duhamel stars with Katherine Heigl in "Life as We Know It", a movie opening Friday about two single adults who become caregivers to an orphaned girl when their mutual best friends die in an accident. Duhamel plays a ambitious sports director of a television station, while Heigl is an up-and-coming caterer.
"It's very dramatic and very funny," said Duhamel, born in North Dakota and now is married in real life to singer Fergie. "It was my goal in life to play sports. I had a real passion for it. I guess this is close to it."
Duhamel said he feels fortunate to act and said his background in sports has helped.
"Sports shows you how to compete, how to win and lose," he said. "And it shows you how to be grateful for the opportunities you have. All that aesthetic stuff is fleeting."
And what about the pronunciation of his last name, one of the hardest to figure out in Hollywood?
"The name is French-Canadian, so it's really pronounced 'DOO-ha-mel'," he said, "but I guess my family got lazy after everyone butchered it, so now it's just 'DOO-mel'."