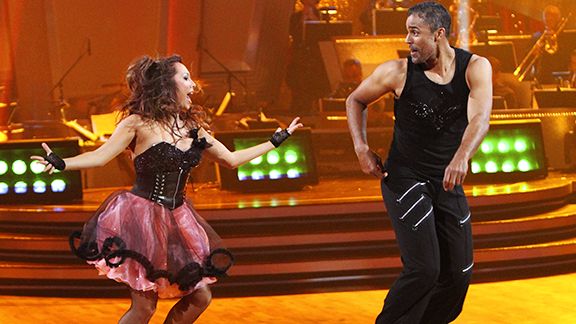 Adam Larkey for ABCRick Fox and Cheryl Burke have done well this fall and are now considered one of the favorites.
Rick Fox is 41 and Kurt Warner is 39. They aren't the oldest competitors (that would 76-year-old Florence Henderson) on this fall's edition of "Dancing with the Stars" but their bodies are beat up after playing more than 15 years of sports.
So as each week goes on, it's getting tougher and tougher.
"My body is OK. I've had my moments," said Warner, who retired from the NFL in January. "I have a foot that stays numb all the time. Not sure what's going on there. Maybe I need to get that checked out?"
Fox is dancing with a ruptured tendon in his foot, which ended his NBA career in 2004. "I'm just glad I made it through the jive last week," he said. "After playing that many years in the NBA, my body isn't 100 percent. There still are a lot of aches and pains."
Monday night, the athletes will perform the samba, foxtrot or waltz. The two competitors already knocked out on the 11th season of the show are David Hasselhoff (58) and Michael Bolton (57).
"For the most part, I've been in good shape coming into this thing," Warner said. "This really is a full-time job. After six hours of training a day, it's as mentally draining is as it's physically draining."
In the past 14 hours, twitter posts from the duo:
@kurt13warner: Up from nap, eating a BIG meal in prep for a BIG night, this dancing is destroying my figure - weighing 207, lowest since retirement! C'mon!
@Rickafox I usually fall asleep in my car after rehearsal..today I didn't even make it to the car! I fell asleep on the floor of the practice gym! : )