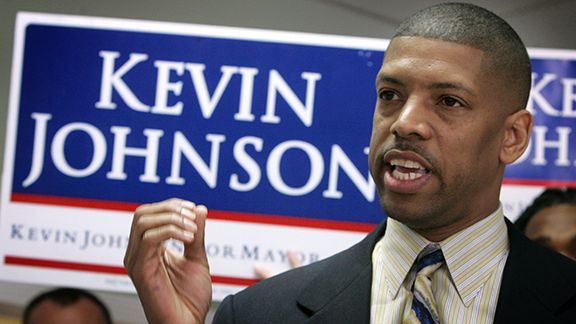 AP Photo/Rich PedroncelliKevin Johnson is doing everything he can to keep the Kings from fleeing Sacramento.
Sacramento mayor and former NBA All Star Kevin Johnson joined KHTK in Sacramento with Mike Lamb and Grant Napear to talk about the future of sports franchises in their city.
On whether or not the community is committed to having a sports team:
"Yes, yes and yes. Let me say first of all our commitment in the city of Sacramento, as mayor of this great city, is to make sure regardless of what we do is protect our taxpayers. That's the first thing I want to say. The Sacramento Kings organization means so much to our community and we've got to do everything we can to try and put ourselves in a position to build a new entertainment and sports complex. In terms of keeping them here, if we do not keep the Kings in Sacramento, it will be very difficult for our city to recover when we lose our only professional franchise. It is very difficult to get them into a community and once you have them here, we have demonstrated we have some of the best fans in all of sports let alone the NBA. To lose them would be very, very difficult. The good news is they have never threatened or anything I've heard where they've said we're thinking about going anywhere else.
On what the plan is now moving forward after the plan for the Cal Expo fell through:
"We've got to regroup. One of the things that's on the table, the convergence plan team, their exclusive right runs out at the end of October. They're trying to regroup and bring forward potentially another plan that does not include Cal Expo. That will be one option before us. Another option is to look at the Sacramento First Half force that made recommendations of three other proposals and said they were somewhat viable and should be considered. We will have to look at those at some point but we won't be able to do that until after the exclusive right runs out or we re-engage the convergence plan and they're option B."
On how David Stern received the news:
"David measures what he says and he is very thoughtful. I gave him the update on Cal Expo and he said in a sober way, that is not good news. He said it's very difficult for the Kings when their organization is losing money if they don't competitively have a new sports entertainment complex. And I said why Commissioner Stern? The answers are obvious. You have to have something that is physically viable and makes sense and something that is economically viable and makes sense. Right now we are losing opportunities for NCAA Basketball because Arco is outdated. And a host of other non sports are not excited to come to Sacramento. You know my goal is to build a world class destination city and you need facilities that are top notch and we have a long way to go. In short, the Commissioner said 'look we're not giving up on Sacramento. We're just disappointed that we're not further along and we've been talking about these new sports entertainment complexes for years and there's nothing to show and that Cal Expo group was not able to deliver. We will see mayor if you and your city can come up with a new plan.'"
• Click here for a transcript of highlights from the interview