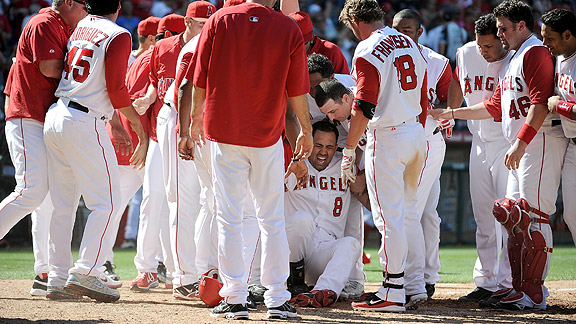 Harry How/Getty ImagesKendry Morales' suffering a season-ending injury while celebrating a home run was indeed bizarre.
Anytime two home run trots last longer than a Lindsay Lohan jail term, Derek Jeter turns into Sir Laurence Olivier and a guy needs surgery after putting on his shirt, it's officially a Year in Review kind of season. So let's take one final look back at some of our favorite moments in nuttiness.
Injuries of the Year
• First prize: I have a feeling Marlins hit machine Chris Coghlan won't be ordering pie for, like, the next 70 years -- since he tore his meniscus trying to slam a postgame pie into Wes Helms' face after a July 25 walk-off. Thanks to that half-baked mishap, Coghlan needed knee surgery that terminated his season. And in case you weren't clear on whether to try this yourself at home sometime, Marlins reliever Burke Badenhop reported to the Miami Herald's Clark Spencer: "I wouldn't say a pie in the face is an occupational hazard."
• Second prize: Mariners masher Russell Branyan gets Year in Review's goofy-injury daily double. First, he flunked his close-the-hotel-curtains test in July, by toppling over a coffee table that fell on his foot and scrunched his toe. Then, just last week, he managed to get hurt taking his family out for pizza. No, he wasn't attacked by a runaway pepperoni. The trouble started when his son kicked off a flip-flop. Branyan reached over to pick it up, his chair tried to escape, and he fell and wiped out his tailbone. I bet next time he orders takeout.
• Third prize: Here's to lovable Astros utility whiz Geoff Blum. Until July, he undoubtedly figured the worst thing that could happen to him while putting on a shirt was finding out it didn't match his pants. Then he tried slipping on his shirt after a game, felt his elbow pop and needed arthroscopic elbow surgery to zap some bone chips. Astros broadcast-witticist Jim Deshaies later told Year in Review he used to worry about chips only while removing his shirt. "When I took off my shirt," he said, "the only chips they found were a half-eaten bag of Lay's potato chips."