NAVASOTA, Texas -- Quenton Champ had a confession.
"I couldn't navigate that Spider-Man thing," the 36-year-old Houston man said.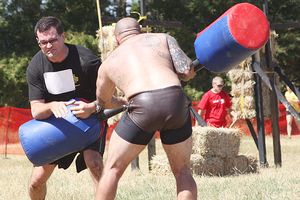 Jim McCurdyAs if competitors in the Spartan Race didn't have enough to deal with, Giant Gladiator Matt Wray attacked at the finish line.
And the incline ramp, slicked up with dishwashing soap, Crisco and vegetable oil?
"I almost pulled a groin," he said.
Welcome to the Spartan Race -- a 5K peppered with 10-15 crazy obstacles staggered on challenging terrain.
Created by Selica Sevigny and Richard Lee in January, Spartan Race passed through Texas on Sunday. On a course set up against a woodsy landscape with Australian-like blue water and aesthetic red-rock cliffs mimicking the Grand Canyon, the course offered challenging tranquility.
The stop was the sixth of seven on the inaugural tour, which began May 16 in Burlington, Vt., and concludes Dec. 12 in Los Angeles. The top three finishers at each event earn the right to compete in the Spartan Death Race in July in Vermont.
Next year, Spartan Race's tour will include a half-marathon, pyramid-scheme Super Spartan and 48-hour obstacle event. They have 25 events scheduled over the next 12 months.