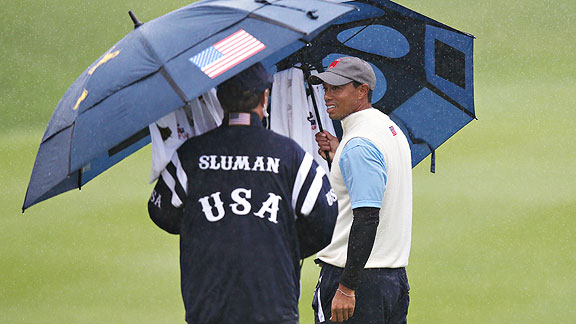 AP PhotoJeff Sluman and Tiger Woods battle the elements at the Ryder Cup this past weekend.
Coaches are always telling their players, "Play for the name on the front of the jersey, not the name on the back." And now there's a new reason to do that.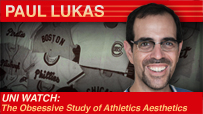 Remember those leaky rain suits that the American golfers wore during the Ryder Cup? Nobody could figure out why they weren't waterproof. But now the mystery has been solved: Corey Pavin's wife, Lisa, who designed the raingear, insisted that the players have their names embroidered onto the back. Embroidery is done with needles, and needles make holes -- lots and lots of tiny little holes. And as it turns out, raingear with lots of little holes isn't the best idea.
So there's a lesson that you'd think would have been obvious: If you're going to make something for wet weather, don't design it to be riddled with pinholes. And if you have to have your name on your raingear, just use a Magic Marker or something like that.