They called Michael Olajide Jr. "Silk" for his exceptionally smooth footwork back when he was the number one ranked middleweight contender two decades ago. Since then, celebrities flock to him to replicate his smooth moves, and ideally gain his insane abs, at his New York City gym called Aerospace.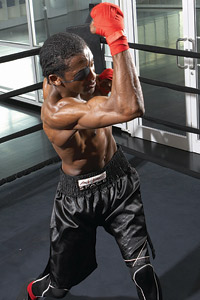 Richard CormanMichael Olajide was a professional boxer until suffering an eye injury in a freak sparring accident.
He assessed a few of his pupils.
Hugh Jackman? "He's extremely coordinated," Olajide said. "He'll be doing something with his left, then his right, and something different with his legs, which is something you can't take for granted."
50 Cent? "He used to be a fighter, a southpaw, and is really quick with his hands."
Mickey Rourke? "He's another ex-boxer and he just loves to fight. I think he enjoys being the underdog. I don't even think he minds getting hit."
And the list goes on, with actresses like Eva Mendes, Jane Krakowski and Liv Tyler taking swings at Olajide regularly. Most recently, he's worked with 73-year-old Dustin Hoffman who he said, "is actually in great shape for his age. He loved hitting the mitts even though he had never boxed a day in his life."
Olajide has also been called on to choreograph boxing scenes in movies, like an eight-month shoot with Will Smith in "Ali," and another shoot with Aaron Eckhart and Josh Hartnett in "The Black Dahlia," to make the fights as realistic as possible.