Tristan Couvares trusts you.
The star of the new web series "ControlTV" has to. He's putting his life in your hands. For the next six weeks, his every waking moment will be chronicled, and his audience will choose everything from what he wears, to what he eats, to who he dates -- all in real-time.
The reality experiment is the brainchild of Seth Green and Matthew Senreich, the creators and executive producers of the Emmy Award-winning Cartoon Network show "Robot Chicken."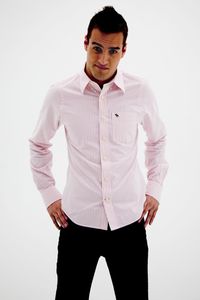 Courtesy of ControlTV Tristan Couvares' daily life is at your mercy on "ControlTV."
By giving the viewers a vote, "ControlTV" is essentially a hybrid of a reality show and a video game. The show launches on www.controltv.com Wednesday, and Couvares is eager to get started and see what happens.
He sat down with Page 2 to discuss what viewers can expect from the show and why he's worried he won't get to watch his beloved Yankees in the playoffs.
Why let people take control of your life?
Couvares: Because I think it'll make for exciting entertainment that a lot of people are going to want to watch. That's the quick answer.
Will it all be innocuous stuff like choosing what you wear and eat?
I believe the stakes will be raised once a day. They're going to set it up with 8 or 10 less important votes and conclude with one considerably more important vote daily.
Just how far will this experiment go?
We have corporate sponsors, so we won't be able to do anything illegal, immoral or unethical. But other than that, anything's game.
How do you like living in Los Angeles after having grown up in Connecticut?
I love LA. I'm from where ESPN is actually headquartered [in Bristol]. I love being in a city where there's lots to do as opposed to Connecticut where there's nothing to do (laughing).
So who's your team?
Being in Connecticut, we're halfway between New York and Boston, so baseball is huge for us. I'm a big Yankees fan.
Are the Yankees going to beat the Twins in the first round of the playoffs?
Absolutely. But I'm a little nervous I might not be able to watch it because it might be voted that I have to watch Desperate Housewives or something.
If you could take control of one athlete's life for a day who would it be and what would you have them do?
Do you know who's starting for the Twins? That's probably who I'd control and I'd have him do something that would result in Tommy John surgery.