It's time for the Wednesday edition of the Page 2 Podcast so here is a little rundown to help you get started: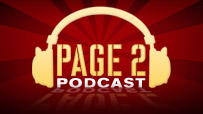 Quien Es Mas Macho?
Staff ace vs. Team slugger
Page 2 Game Ball
Brian Roberts' head has a volitile relationship with his head
Stay Classy
The Dolphins really know how to say goodbye.
Final Countdown
Three: As in three teams that passed on baseball legend Matt Murton.
Two: As in the most-expensive second half kickoff return.
One: As in Kobe Bryant saying he can school LeBron in one-on-one.
Listen up! Philbrick & Gallo: Page 2 podcast

Archive » Subscribe for free! »