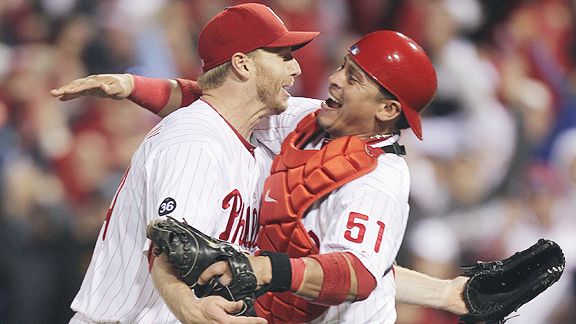 AP Photo/Rob CarrPhiladelphia Phillies starting pitcher Roy Halladay celebrates with catcher Carlos Ruiz Wednesday.
Congratulations to Philadelphia's Roy Halladay on pitching only the second postseason no-hitter in history. Many of us were not around for Don Larsen's perfect game and never thought we would ever see anything like it. So I present:
Five Great No-Hitter Quotes:
1. "If I'd known I was gonna pitch a no-hitter, I would have gotten a haircut."
-- picher Bo Belinsky, who threw a no-hitter in 1962 for the Los Angeles Angels
2. "If I knew he was gonna pitch a no-hitter, I'd a thrown one too."
-- Dizzy Dean, after his brother Daffy pitched a no-hitter in 1934 for the St. Louis Cardinals
3. "You've got to be lucky, but if you have good stuff, it's easier to be lucky."
-- pitcher Sandy Koufax, who pitched four no-hitters for the Dodgers
4. "That might have been the best game you ever pitched."
-- catcher Yogi Berra, said to Don Larsen after Larsen's perfect game in the '56 World Series
5. "This is not even close to the way I envisioned a no-hitter would be."
-- Andy Hawkins, after pitching a no-hitter for the New York Yankees in 1990 and losing the game 4-0 after his team committed three errors in the eighth inning
For more sports quotes, check out my site.