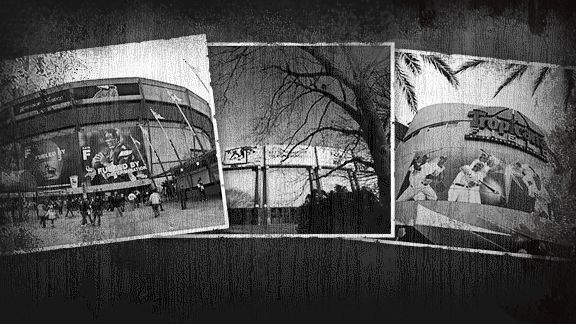 ESPN.com IllustrationWe asked readers their thoughts on worst stadiums and they were passionate with their answers.
Wherever deceased Vice President Hubert H. Humphrey might be, let's hope he doesn't have free Wi-Fi, because he will be saddened if he reads this list. Alas, the HHH Metrodome in Minneapolis is the clear-cut winner (loser?) in our search for the Top 10 Worst Sporting Venues.
Venues are our subject this week as a somewhat backhanded salute to Orlando's unveiling of its $480 million Amway Center, home of the NBA's Magic. (Take that, Miami Heat. Maybe you did get LeBron "King" James, but Orlando got a mansion fit for royalty as a new playroom.)
Bigger and better.
It's the American way.
So what are the venues that need to be replaced? Which ones most deserve a wrecking ball? Your answers include some shockers, although if anyone out there would defend the Metrodome, he or she did not speak up.
Based on the votes that poured in for "The Hump," apparently everyone who goes there now can't stand the 38-year-old home of the Minnesota Vikings and former home of the Minnesota Twins and the University of Minnesota Golden Gophers.
Listen to a sampling of voters' remarks:
• "Far and away No. 1, the Metrodome. Eerie lighting, echo chamber with piped-in crowd noise, troughs for urinals, etc." -- Jonathan K., Oshkosh, Wis.