PORTLAND, Ore. -- Bobby Fischer has nothing on Elliot Williams.
A rookie guard with the Portland Trail Blazers, Williams is known for his quick first step and leaping ability, but he also isn't afraid to leap with a knight or even call "checkmate" and capture a king.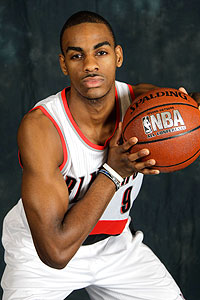 AP Photo/Rick BowmerElliot Williams started playing chess in high school and is addicted to the game.
"I'm the kind of guy that likes to get into a lot of stuff, and chess is one of those things that stuck with me," said the 6-foot-5 Williams, the No. 22 overall pick by Portland out of the University of Memphis. "It's a very difficult game, but once you get playing it becomes very addicting."
Williams started playing chess in high school at St. George's Independent School in Collierville, Tenn., where he was a McDonald's All-American. He attended Duke before transferring to Memphis for his sophomore year of college.
"I saw some guys playing [in high school] and I thought, 'Sure, why not?'" Williams said. "Chess is not a game that you pick up right away. It's a mental game and it took me a while, but I just kept playing."
Since being selected by the Trail Blazers after his sophomore year at Memphis, Williams is finding that this whole training camp thing is seriously cutting in to his chess playing time. Williams played occasionally at Duke and a little bit after transferring to Memphis, but now plans to save his online chess games for those long Blazers' team flights.
"My chess game is very good," Williams grinned. "Guys don't even know that I play."
Though Williams might not get much playing time this season behind the likes of Andre Miller, Brandon Roy, and Jerryd Bayless, but he's hoping his chess skills transfer to the hardwood.
"I don't really put it in basketball terms, but at the same time they are alike in a lot of ways -- there is strategy, knowing what moves to make, or even thinking four moves ahead. It's hard to teach," Williams said. "You just have to play, kind of like basketball."