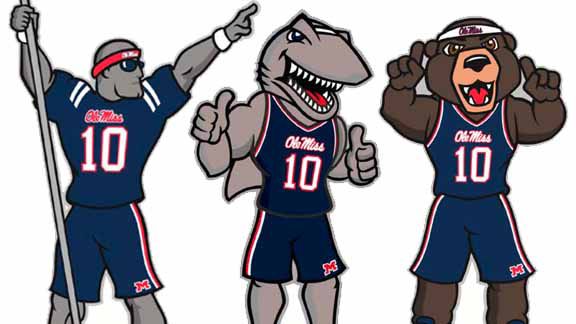 Ole MissOle Miss mascot candidates Hotty Toddy, Rebel Land Shark, and Rebel Black Bear.
Admiral Ackbar is dead. Again.
The University of Mississippi has released a list of candidates for their long-vacated mascot position, and despite a strong push from students, the "Star Wars" character did not make the cut.
The final three possibilities are Rebel Land Shark, Rebel Black Bear and Hotty Toddy.
So just so we're clear, Ole Miss, Admiral Ackbar was too absurd, but your suggestions are two random animals with the word "rebel" in front and a guy in a muscle suit? That's what we've been waiting for seven years?
Well, we at Page 2 couldn't be more overjoyed. We were terrified that Ole Miss wouldn't give us anything to make fun of, but they've outdone themselves. And since we've been eagerly following this search for a new mascot, we'd be remiss if we didn't break down the candidates and give you our pick. Students will determine the actual winner by voting, which ends Tuesday. Here are the candidates:
Rebel Land Shark
We can replace the fictional Ackbar with the equally nonexistent land shark. Unless the BP oil spill has driven sharks from the ocean and onto land in Mississippi, this makes no sense.
Pros: It would be a constant reminder of the classic SNL sketch with Chevy Chase.
Cons: Ole Miss would forever be connected with terrible beer made by Jimmy Buffett.
Rebel Black Bear
Very creative, Ole Miss. It took our crack staff almost a whole minute to name 30 other teams with the same mascot. But we get it. Your state is known for bears. As of a few years ago, biologists estimated Mississippi's bear population at a whopping 60.
Pros: Bears are terrifying. There are 6,510,000 results for "Bear attacks" on Google.
Cons: We hear the Ohio Bobcat hates bears more than Brutus Buckeye.
Hotty Toddy
For those above the 35th parallel, Hotty Toddy is the name of the Ole Miss fight song. It begins with the question, "Are you ready?" To which, we reply -- certainly not.
Pros: Hotty Toddy's physique would appeal to both women and steroid users.
Cons: The Dallas Mavericks already have a monopoly on guys in creepy muscle suits.
The winner
So it should be clear after such an in-depth look at the three choices that Page 2's pick for the new Ole Miss mascot is . . . Cooper Manning.
Hey, it's no more outlandish than a Rebel Land Shark. And what football game wouldn't be improved with a giant, fabric Manning face? But with such ridiculous choices, no matter who the students vote for between now and Tuesday, we all win.