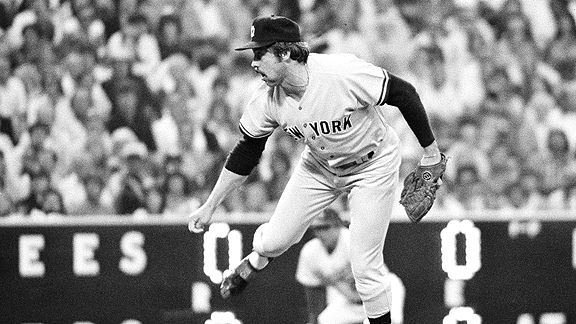 AP PhotoJim "Catfish" Hunter, the baseball Hall of Famer, made our All-Animal Team.
Give in to your instincts and take in the adventure of the All-Animal Team. Passport, safari and fake Australian accent not required.
Flipper Anderson: Los Angeles Rams wide receiver Willie Lee Anderson was tagged with the nickname Flipper as a toddler because a cousin thought his crying sounded like the TV dolphin. On the evening of Nov. 26, 1989, however, the New Orleans Saints were left in tears when the Smattering Ram -- he had caught an unimpressive three passes the previous week -- went off. He hauled in 336 yards worth of Jim Everett's passes for an NFL record that still stands tall. In fact, nobody has come within 50 yards of Anderson in a decade.
J.J. Birden: LaJourdain J. Birden of Portland, Ore., sounds like a professor of paleontology or ornithology at Stanford. Although that's not Birden's calling, his story is pretty compelling. Failing to hit even 150 on the scales as a high school senior, he had no college football offers and enrolled at the University of Oregon. Birden didn't become a Duck until his sophomore year, and even then, his position was tenuous. "Seventh string," as he told Page 2 recently. He zipped up the depth chart with the sort of athleticism that would earn him a spot at the 1988 U.S. Olympic trials in the long jump, and after a college career with one touchdown, he was drafted in the eighth round by the Cleveland Browns. He then tore up his knee in training camp and didn't make it in the NFL until 1990. He then crafted a five-year career with 244 catches.
Goose Goslin: Seldom has a Hall of Famer gotten his nickname for looking silly on the field, but that's the legend of Leon Allen Goslin, who frantically chased fly balls with his arms flapping in the breeze. Goslin spun another tale when he threw the ball, however. He led the American League in outfield assists three times and hit .316 over an 18-year career. He played for five teams between 1921-38.