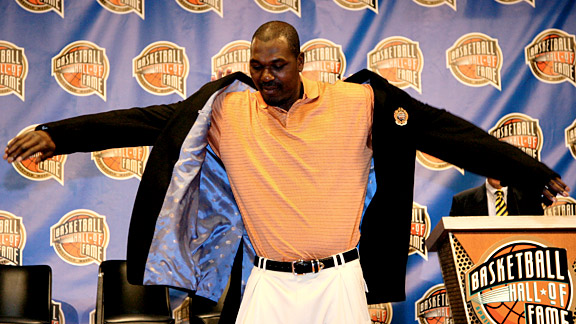 Nathaniel S. Butler/NBAE/Getty ImagesStill in great shape, Hakeem Olajuwon worked out with Dwight Howard this summer.
In a few weeks, Dwight Howard is set to drop Shoot For The Stars, his debut album (if we really want to deem it an album), with tracks like "U Can't Touch This (Howard Time)." We know. You're hoping that while recording "Whoomp (Hoop) There It Is" Howard found some time to develop some staple post-moves so Orlando's not forced to avoid him in the clutch. Well, he did. He carved out three days to work with, arguably, the greatest low-post player in NBA history -- Hakeem "The Dream" Olajuwon. Dream had as many moves as Kevin McHale mixed with the agility of James Worthy. Kobe, who worked out with him last summer, called him "the Master Shogun". Howard is a smart dude.
The video, however, is startling for one reason: eight years after retirement, Dream looks awesome. Every move he taught Howard (in three days, of course), Dream looked smoother performing. The baseline spin, the fadeaway, the jump hook -- Dream's still got it … even at 47. So let's start some comeback momentum.
You could yank that man off his couch taking a nap, teleport him to an NBA game, give him the rock in the post and he'd eat Howard for breakfast, Pau Gasol for lunch and Shaq for dinner. He'd chew up Chris Bosh and spit him in a pile with Greg Oden and Andrew Bogut. He looks like he can still "David Robinson" anyone you put between him and the basket.