The Texas Rangers' 5-1 victory over the Tampa Bay Rays kicked off Major League Baseball's playoffs Wednesday afternoon.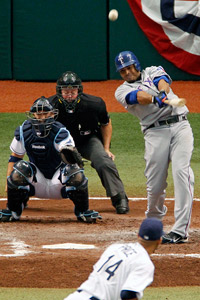 AP Photo/Mike CarlsonTexas' Nelson Cruz belted a home run in Tampa to win a Tigers jersey for a fan in Michigan.
And the league made sure to get the word out on social media.
Shortly before the first pitch, MLB's official Twitter account offered up this contest in a tweet.
"Who will hit 1st #Postseason HR? 1st to tweet @MLB with correct pick wins team jersey. 1 entry per fan. Must include #1STHOMER tag. GO!!!"
The contest elicited hundreds of responses, and was a clever way to promote the start of the playoffs.
Fans had incentive to participate because of the chance to win a jersey, and, provided they simply included @mlb in a tweet and did not hit the reply button to respond (which would have meant the tweet didn't go out to all their followers, provided said followers didn't also follow MLB's official account), they blasted out MLB's brand to a countless number of their collective following.
Nelson Cruz of the Rangers won the distinction in the top of the third with a homer to dead center, which put the team up 3-0. A Tigers fan won the contest, and requested a Miguel Cabrera jersey.