Athletes have been a big part of ABC's "Dancing with the Stars", with more than 25 competing in 11 seasons of the show. And five -- football Hall of Famer Emmitt Smith, Olympic skater Apolo Anton Ohno, Indycar driver Helio Castroneves, Olympic skater Kristi Yamaguchi and Olympic gymnast Shawn Johnson -- have won the title.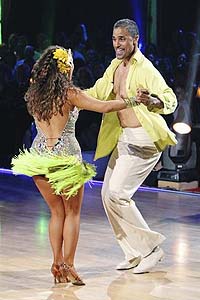 Adam Larkey/ABCRick Fox and Cheryl Burke have worked well this fall and now are considered one of the favorites.
This fall, former NBA star Rick Fox and former NFL star Kurt Warner have survived three weeks of elimination and fared better than dancing pundits expected.
In fact, Fox -- along with partner Cheryl Burke -- now is considered one of the favorites, along with actress Jennifer Grey and singer Brandy.
"Having people say I'm a favorite adds gasoline to my fire," said Fox, who played 13 years in the NBA. "I've always been a competitor, and now I'm excited to be considered one of the favorites. When I was asked to do the show, I wanted to be competitive or I wasn't going to do it."
Monday night, the stars will dance either the rumba or Argentine tango, in something called "acoustic week", and the audience will be brought closer to the dance floor.
A competitor from the spring show, ESPN broadcaster Erin Andrews isn't shocked that the two athletes are hanging around.
"Look at them. They are both world-class athletes," said Andrews, who finished third. "They're still in great shape. I'm not surprised at all that they would do so well."