Before he was the lead singer for Poison and prompting young women to scream until they fainted, Bret Michaels was the star quarterback for his high school football team in western Pennsylvania.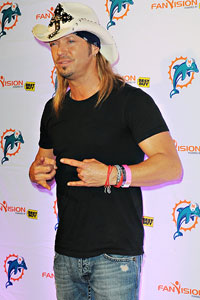 Jeff Daly/AP PhotoBret Michaels was a star high school athlete in Western Pennsylvania.
But even though a guitar and a microphone have defined him, football remains a passion for Michaels. The 47-year-old rocker got his fix in shortly before a recent NFL game in Miami.
You played high school football, right? Tell us about your prowess on the gridiron.
"I started out at St. Joseph's Catholic School and then I played for the Mechanicsburg Wildcats all the way up until I graduated school. I played quarterback and linebacker. (Then) they moved me to defensive end because I was quick and I could get around the other kids because a lot of the other kids were playing offensive line and some of them weren't in tip-top shape. I was fast and could get in as a defensive end, but the other side of it, there was the downside to it. Your reward for making a tackle was you got a regular Coke. And I was like, 'But I can't drink this. I don't need this but thank you.' [Michaels was diagnosed with Type I diabetes at the age of 6]"
You grew up obviously wanting to be a football player. So how did that switch to music?
"As I started getting older, I realized one of the things I loved: I absolutely loved music, and my dad first influenced me with the country music. Then I discovered Led Zeppelin and Lynyrd Skynyrd, then Aerosmith, Kiss and then I go, 'OK, I'm loving music.' And I'm going to make a funny about this. As I went along, I realized there was a lot less pain involved. You got a lot more women and a lot less pain."
Just how big a part of your life are sports today?
"Even now, I stop the bus, I make us play football, baseball. I'll stop at a truck stop and make everyone get off the crew buses. We go out, we play sports in almost every single city. If you went to any amphitheater, you'd find out that I've had people come out there and play baseball, football, whatever. I will never, ever be able to get away from sports."