Terry Kennedy, a 25-year-old pro skateboarder, has been, well, on a roll.
Kennedy, who co-starred on MTV's "Viva La Bam," has been busy launching his second shoe line, grinding on railways at Venice Beach and competing in skate competitions. On Tuesday, his reality show, "Being Terry Kennedy," premieres on BET.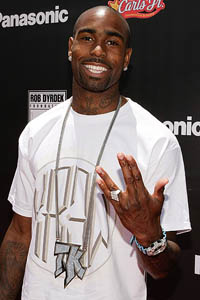 Noel Vasquez/Getty ImagesPro skateboarder Terry Kennedy is an aspiring mogul.
The reality show will focus on his day-to-day life, his life as a skateboarder and, possibly, his love life. He formerly dated Run-DMC star Reverend Run's daughter, Angela Simmons.
We caught up with Kennedy to find his motivation for making the new show.
So you've spent much of this summer competing. How do you prepare yourself for a competition?
Just practice. That's it. Just mentally practice, practice physically, work out and take time just to gather myself and have my mind together when it's time for me to focus and get out there and skate.
Let's go back a little bit. What made you even want to pursue competitive skateboarding?
Random. This kid I played basketball with in eighth grade used to do it. And I used to sit in front of my school every day after basketball practice and he had all the skate clothes on, the shoes and just the freshest bowls, and I'd be like, "Where do you get that stuff from?" ... He was like "These are skateboard shoes. If you want to skate, just go to a skate shop and skate." I used to always bother him and he finally was like, "Dude, why don't you just skate?" From there it just became a passion and I grew to love it and I was like, "Dude, I want to make a career out of it."