HILVERSUM, Netherlands -- What was once used to settle scores of "who's more of a man" with prepubescent boys or intoxicated grown dudes has turned into a legitimate sport in Europe -- arm wrestling.
"In my youth, it was a popular thing," said Hendrik Nentjes, president and founder of the Armwrestling Vereniging Urk (AVU) in Holland. "Everyone saw and loved 'Over the Top' with Sylvester Stallone but there weren't any tournaments."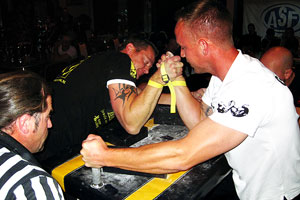 Katie BerryArm wrestling is serious business at the International War of the Arms in Holland.
Now competitions are popping up all over the world, as well as with organizations such as United States Armwrestling Federation (USAF) and the World Armwrestling Federation (WAF), forming formal fights.
On Sept. 25, the 2010 International War of the Arms took place in Hilversum, Holland, at the Grolsch Sportcafe with Poland, Germany, Bulgaria, Belgium and Switzerland represented. The field was divided into weight classes (Junior, Senior, Open) for left and right arms.
It was a very unpredictable day of play, with often a Popeye wannabe taking down a Shrek look-alike.
"Some of our smallest guys can take down the biggest guys in the gym," Nentjes bragged. "They lose badly and they never want to talk about it again."
It's a new show for some guys, and people don't know how much you have to do to be at this level, he added. They train in the gym and twice a week on the table.
"It's war when you stand there," tournament organizer Tim van der Kuijl said. "They're your biggest enemy then your best friend."
When all the chalk had settled at War of the Arms, the winners of each class were Albert Kaptijn, Johan Hogenhout, David Groch (all three won on both arms), Pieter de Vries, Nentjes, Steve Bernardi, Cor Danenberg, Oliver Heuse, Andre Niewerth, and Cedric La Cola. For the females, Conny Kramer took home gold on right and left.
No one chugged Valvoline or got their kid back, but all are making serious headway in this sport.
[Editor's Note: Kristy and Katie Barry are touring Europe and competing in offbeat sports. Look for a report each day this week in the Page 2 blog.]