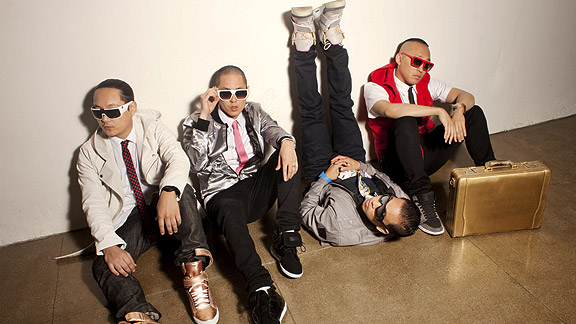 Courtesy of Big Hassle Media The Far East Movement release their first major-label CD -- "Free Wired" -- on Tuesday.
First time hearing your song in a football stadium?
How about a basketball arena? Or a baseball stadium?
How about all this happening before you even release your first major label CD?
That's what has happened to Far East Movement, a techno-rap quartet from Los Angeles.
On Tuesday, the foursome -- Kevin Nishimura, James Roh, Jae Choung and DJ Virman -- will release their first major CD, "Free Wired," in New York.
But their music has been everywhere. Their monster hit featuring the Cataracs and Dev called "Like a G6" hit No. 1 on iTunes -- the first time an Asian artist ever has done that -- and No. 2 on Billboard's Hot 100. In fact, it had more than 1 million views on YouTube before it was even played on radio.
"We all are huge fans of sports. We watch 'SportsCenter' all the time. In fact, that's what we're doing now while talking to you," said Roh, who helped form the band in high school in 2003. "And imagine when people come into sporting events and they hear our songs. It's like we're contributing to the backing of their team. It's a great feeling."
Nishimura said people might label them as pioneering Asian artists -- they've opened for Lady Gaga on an Asian tour, performed at the Cannes Film Festival and had their music appear on HBO's "Entourage" -- but they don't consider themselves that. "We're just L.A. kids first," Nishimura said.
"We grew up watching sports and MTV. We live our world by knowing people's screen names. You might not even know if they are male or female or what nationality. That's how our CD went," he said. "It's called 'Free Wired' because the world is more multicultural than ever. We give you different sounds. So when we walk into a stadium and hear our music, it's just surreal. I can't explain the feeling."