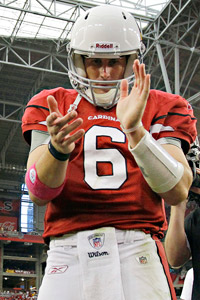 AP Photo/Matt YorkMax Hall is the latest "Madden NFL" player to get a high-profile ratings adjustment.
When surprise players such as Arizona Cardinals quarterback Max Hall -- undrafted rookie in August; unlikely starter last week -- emerge on the NFL landscape, opposing players and game-planners often are at a loss, with scant film and skimpy scouting reports producing lots of educated guessing.
"Madden NFL" producer Donny Moore can relate.
"We're always trying to get [in-game player ratings] right," Moore says. "But it's a hard task. The good thing is that I can always play catch-up and change the ratings a couple weeks down the road. For pro coaches, it's going to cost them a couple hundred thousand dollars -- or maybe their jobs -- if they guess wrong on a player."
As Madden NFL's player ratings guru, Moore is in charge of making sure the game's digital athletes look and play like their real-world counterparts -- and because the title traditionally ships to stores in early August, he's also responsible for creating and adding players like Hall via weekly downloadable roster updates.
To better understand Moore's method, Page 2 asked him to break down some of his most memorable come-from-nowhere players, like Tom Brady.