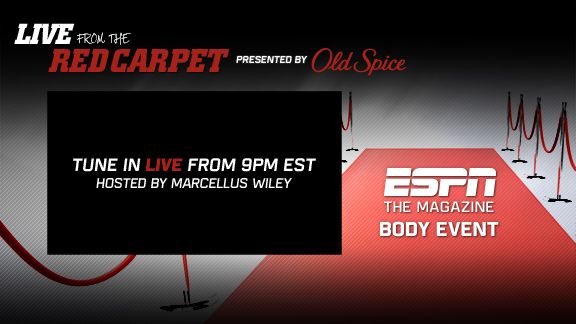 ESPN The Magazine
Join Marcellus Wiley on the red carpet at ESPN The Magazine's Body Issue Event tonight starting at 9 p.m. ET.
The ground-breaking Body Issue covers everything from photo galleries of the best bodies in sports to a step-by-step look at injury rehab with the reoccurring theme of "No Limits." Tuesday night's event celebrates the eye-popping physiques of our favorite athletes and their "No Limits" attitudes. Marcellus will be on the red carpet throughout the evening providing a recap of the event as he sees it and interviews with athletes and celebrities.
Invited guests include Amare Stoudemire, Herschel Walker, Charles Oakley and Kellan Lutz, so be sure to check back here between 9 p.m. and 1 a.m. ET for the live feed!
• Click here to watch the live stream, beginning at 9 p.m. ET

You can also enjoy these videos from the making of ESPN The Mag's 2010 Body Issue:
• The Making of the Body Issue, 2010

• The Body Issue 2010: Part Of Me

• Taking an ice bath with the Atlanta Falcons