Tino Martinez knows what it's like to play in front of a raucous crowd for a championship team. He won four World Series titles with the New York Yankees.
He also knows what it's like to play for his hometown Tampa Bay Rays (still the Devil Rays then) in 2004, so he knows what Rays players mean when they complain about a lack of support.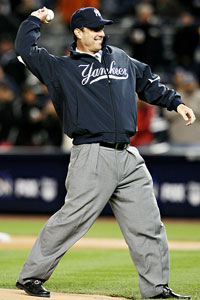 Nick Laham/Getty ImagesFormer Yankee Tino Martinez (throwing out the first pitch at a game in 2009) says baseball could still thrive in Tampa Bay.
"Every player wants to play in front of a good crowd," Martinez said. "Late in the season you want to have 35-40,000 people cheering for you. It pumps you up as a team when you seem to be really tired."
Martinez said he remembers walking out of the dugout and hoping there would be fans in the stands. He thinks the future is bright for baseball in Tampa-St. Petersburg if the Rays could get a new stadium.
"I'm used to playing in front of sold-out crowds. I think the ownership group of the Rays have done a great job of building a winner," Martinez said. "I really believe they need an outdoor stadium where more people can get to it easier. They do love the Rays there."
He cites the Minnesota Twins' Target Field as the ideal sort of stadium that would excite the fans.
"Nobody wants to go inside the games," Martinez said. "If a ball is hitting the catwalk [a problem unique to Tropicana Field], that's not baseball to me. That alone, to me, should be a reason for the city of St. Petersburg to be able to look for a new stadium."
That would save the sport in the area, he said. "The Rays will get it. They just need a new stadium like the Twins have."
Martinez is teaming with Frosted Flakes to promote a contest in which parents can send in videos of their kids sharing their love of the cereal to the Frosted Flakes Facebook page by Oct. 26. Martinez will put on a baseball clinic for the winner and 15 friends in their hometown.