On Saturday night, NASCAR driver Kasey Kahne will be racing in the Bank of America 500 in Charlotte. On Sunday morning, he'll be racing some of the same drivers -- on foot.
Kahne's charitable organization, The Kasey Kahne Foundation, is putting on a 5K race in Charlotte. The event, called the Five Kahne sponsored by Bank of America, will start at 8 a.m. Sunday, and the course will run from Bank of America Stadium, where the Carolina Panthers play, and end at the NASCAR Hall of Fame.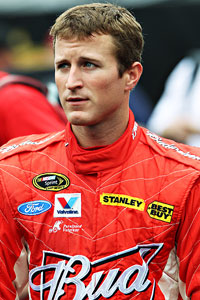 AP Photo/Wade PayneKasey Kahne's 5K is Sunday morning in Charlotte.
"It's going to be a great time." Kahne said. "We're looking forward to getting a lot of people out there."
Kahne, who runs frequently, said fellow drivers Jimmie Johnson and Joey Logano have also said they'll run in the race with him along with ESPN broadcaster Marty Smith, and that he's invited all the NASCAR drivers and teams.
Kahne said his foundation benefits underprivileged and chronically ill children. Bank of America recently pledged $1 million toward education nonprofits in conjunction with the NASCAR Sprint Cup race sponsorship, so Kahne said having them partner on the 5K race with the same cause "made a lot of sense."
Kahne grew up in Washington but wanted to be a part of the racing culture so badly that he graduated from high school early and moved to Indiana in hopes of getting noticed in a racing hotbed. His plan paid off, and he headed South to another mecca, and now lives in North Carolina.
"I took to North Carolina really quick. I enjoy the weather," Kahne said. "It's green, there's mountains, there's good people. It's pretty close to Washington in a lot of ways."
His stature has continued to rise. He's starred in commercials (often geared toward his female fans), and is sponsored by Budweiser, something he says has plenty of advantages.
"We have some neat coolers, fridges. They're always stocked to the top," he said. "There are a lot of good perks, that's for sure."