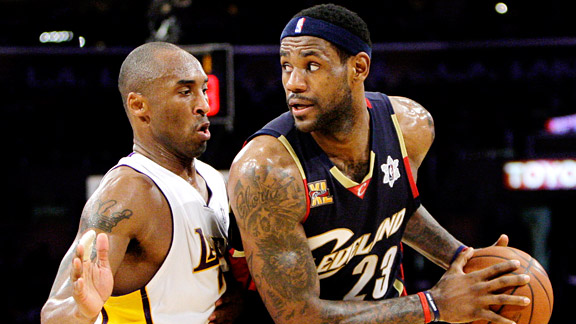 AP Photo/Jae C. HongKobe Bryant claims he's a better one-on-one player than LeBron James. But which player would win if they actually played and be crowned the
real
king of the court?
If you have the correct answer to the following question, you can be part of the largest pay-per-view sporting event in American history: Who would win in a one-on-one game between Kobe Bryant and LeBron James?
Kobe Bryant (in London last week): I'd win. That's what I do. One-on-one -- that's easy for me. One-on-one is how I grew up playing. It's, like, my thing. LeBron is more like a Magic Johnson. He's a great passer and plays an all-around game. At the core of me, I'm a one-on-one player. I'd do that in my sleep.
Dallas Mavericks owner Mark Cuban: It depends on the rules. Is it, 'no blood, no foul'?
Yes, the players would call their own fouls. There would be no referee. Who uses refs in one-on-one?
Cuban: Then I take LeBron. He's too big. Regular refs, I take Kobe.
Note: James is 2 inches taller and 30 pounds heavier than Bryant.
Cuban: Because if you let them call their own fouls, then the audience gets to make their own judgments and that makes it more interesting.
Yes, they'd call their own fouls. So how much would you pay for Bryant versus James on your HDNet?
Cuban: A lot.