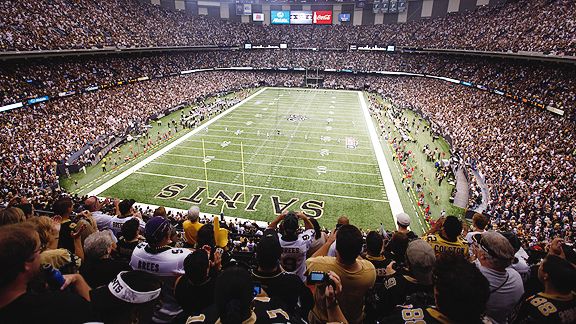 Chris Graythen/Getty ImagesPage 2 readers provided hundred of reasons they prefer to stay home than go to a stadium.
We touched a live nerve with this one.
We wanted your suggestions on how to complete "Top Ten Reasons To Watch Sports at Home," instead of actually attending the game. Hundreds of you offered a ton of answers that collectively had the feeling of something you urgently wanted to sound off about.
We asked because attendance has been dropping at many events, while TV viewing is soaring. For auto racing, for example, the decline in actual attendance is alarming (and even the TV numbers are not all that good).
For even the mighty NFL, while the decline may be statistically small, it's still a decline. The "blackouts" of local TV for games that do not sell out is like the first symptom of what may be a serious disease.
Why? The economy, of course, is an answer. But you provided many more reasons for staying at home. Let's get to the list that expresses the most common responses with an example of each:
Top Ten Reasons To Watch Sports at Home
1. The wonders of TV -- "When I watch the Bengals at home, I can hit the rewind button and watch in reverse. Carson Palmer is a much better quarterback when he appears to be stealing the ball away from the defense at a crucial point in the game," said Patrick K., Cincinnati. You also raved about HD, Red Zone, replays and many of televised wonders although nobody had anything nice to say about the announcers.
2. Your own bathroom -- "Shorter men's room lines and less urine on the floor. Well, at least shorter men's room lines," said Parker, New York City. (Don't invite us over, Parker.)