"I thought you had to be 70 to play this game."
That was the initial reaction of Scott Sommer, 31, who was having dinner at the Cheesecake Factory when he wandered over, infant son in his arms.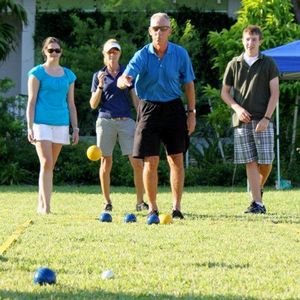 Lindsey LehmannThis isn't your Granpa Giuseppe's bocce!
What he found on a grassy section of the Downtown at the Gardens mall in Palm Beach Gardens was bocce, a ball game named for the Italian word for bowling. And much to Sommer's surprise, his preconceived notion that bocce was strictly for seniors was dashed -- there wasn't a 70-year-old in sight.
Sommer was invited by BocceNation event organizers to play a few rounds. While dinner with friends and family waited, Sommer just kept playing. (If you're unfamiliar with bocce, think bowling, shuffleboard and curling wrapped into one package.)
"Yeah, absolutely, I'd play it again," Sommer said. "I'd seen it before, but usually it was older people playing it. It's fun."
The guy banking on bocce taking off as a new sporting craze is John Lehmann, an entrepreneur from South Florida, who recently launched BocceNation and the American Bocce League, which debuts this fall with leagues in 16 cities.
The BocceNation concept is a streamlined version of the game, which dates back to the Roman Empire. Smaller courts, lighter balls and simplified rules make the game faster, more fun and less like its shuffleboard reputation.
The game got a boost of "hip" when MTV hosted an event in Central Park earlier this year.
"Having BocceNation in the center of the mall, I knew people would have a blast," says Cheryl Stephenson, the Director of Public Relations for the Bal Harbour Shops.
That's what Lehmann's counting on.