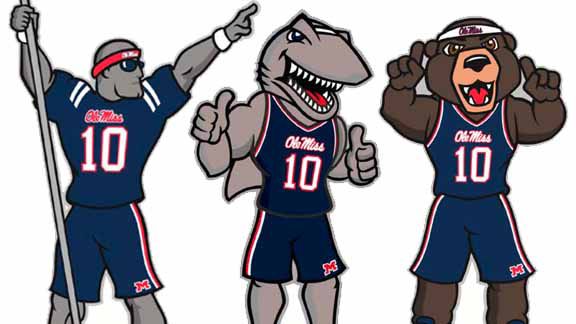 Ole MissThe Rebel
Brown
Black Bear outdistanced Hotty Toddy and the Rebel Land Shark for mascot glory.
The voting results are in for Ole Miss' new mascot:
62 percent -- Rebel Black Bear
56 percent -- Rebel Land Shark
42 percent -- Hotty Toddy
It was a close race, but the surprise isn't the winner (it was really the safe choice, after all), it's that the vote adds up to 160 percent. Maybe spend a little more time in math class and less time gnashing teeth over mascot selections, huh Ole Miss? Coaches that ask for 110 percent think you need to rein it in a little.
Nevertheless, Rebel Black Bear is the clear winner. Committee co-chair Margaret Ann Morgan explains the choice by saying, "it has a Mississippi connection."
Well, so do dinosaurs, but Rebel Tyrannosaurus wasn't on the list. Now that would've been a cool mascot. In fact there are more players on the Ole Miss football team than black bears in the state.
While we're on the subject, could the artists who mocked up Rebel Black Bear at least have made him, you know, black? They're not the (Rebel) -- Brown Bears. Yes, we're well aware that some black bears are actually brown. But some are also white or gray or even bluish. Have colors joined numbers in being banned from the Ole Miss curriculum?
Still, we know the acceptance of Rebel Black Bear will be a tough adjustment for many who consider Colonel Reb to be the only true mascot. There is good news though. Those faithful need not travel far to find kindred spirits. Caledonia High School in Caledonia, Miss., is home to the Confederates.
We at Page 2 don't know what's next for Rebel Black Bear, but we're not ready for this to end. Maybe the Ole Miss students and alumni can come up with a nickname for their new mascot. Fair warning -- the University of Maine has set the bar pretty high by naming their black bear mascot Bananas.