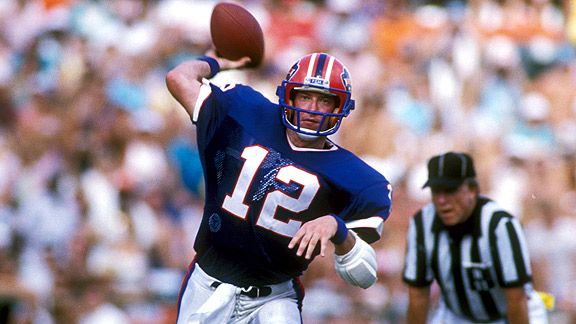 Al Messerschmidt/Getty ImagesJim Kelly set franchise records of 35,467 passing yards and 237 touchdowns in 11 years with the Bills.
Jim Kelly is unquestionably one of the finest quarterbacks in football history.
He starred at every stop of his playing career, from East Brady High in Pennsylvania to the University of Miami to the USFL's Houston Gamblers to the NFL's Buffalo Bills.
Kelly famously piloted the Bills to four consecutive Super Bowl berths en route to being elected to the Pro Football Hall of Fame in 2002, his first year of eligibility. But Kelly isn't merely satisfied with his gridiron feats, which also include throwing for 320 touchdowns and more than 45,000 yards as a professional.
He and wife Jill continue to bring attention to the fight against Krabbe disease, the affliction that took the life of their son, Hunter, at age 8 in 2005. Additionally, he's working with Depend to promote awareness of prostate cancer and prevention.
On a recent visit to ESPN, Kelly spoke to Page 2 about the future of the Bills in Buffalo, the legacy of his son, his days in the high-flying USFL, being a sports dad, music, pro wrestling (?) and much more.
You could live any number of places, but you still choose to live in the Buffalo area. What keeps you there?
There's a number of reasons. I hope you've got enough ink in that pen. No. 1, my son is laid to rest there. No. 2, my wife is from there. No. 3, I love it there. No. 4, I have a beautiful log lodge out in the woods with a lot of land to hunt, and there's great hunting in western New York. Plus, I still am employed by the Buffalo Bills. But, to be honest with you, I really like it."
What athletes would you pay to watch compete in their prime?
Kareem Abdul-Jabbar. Larry Bird. Jerry West. I've watched Gretzky many times -- that was always pretty special. ... Cal Ripken Jr. ... "Pistol" Pete Maravich. [As kids,] we used to cut Clorox bottles out and staple them to the doorway. We used rolled-up socks as our basketball, and the Clorox bottle was our hoop ... and I was always "Pistol" Pete Maravich.