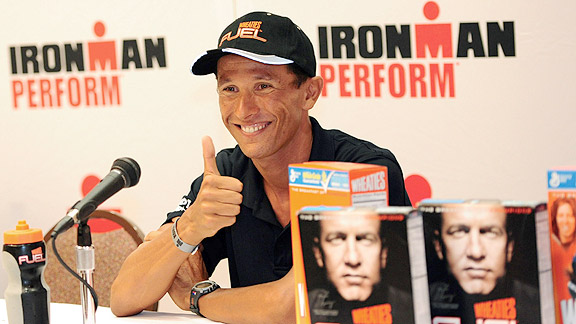 Lucy Pemoni/AP Photo Chris McCormack will be the first Ironman athlete to appear on a box of Wheaties.
Naturally, winning last week's Ford Ironman World Championship race was a thrill for Australian Chris McCormack, who finished the competition in just over eight hours, an impressive feat even for a seasoned tri-athlete.
After he finished the 140.6 mile race, he caught his breath, gave a few interviews and collected his prize.
And then, McCormack got another prize: he was told that he'd be the first Ironman winner to be featured on a Wheaties box cover. Wheaties FUEL sponsors the event and beginning next week, the cereal will be posting McCormack's tips on their Facebook page, and encourage other athletes to do the same. His box will be revealed next month.
"Being an Australian and growing up with American movies and knowing about the great athletes on the Wheaties box … when I was told that I'm gonna be the next guy to appear on it, I was estastic," he said. "I was chatting on the phone to my brothers and father at home going 'guess what?! I'm on the box like Bruce Jenner. We knew who Bruce Jenner was back in the days because through athletics and I remember the big hype around being on a Wheaties box. I'm really, really pumped about that."
He's also pumped about helping to break down walls. At 37,he says that he's hoping his victory can help to put the kibosh on whether or not aging athletes can compete with the spring chickens.
Age, he says, has its advantage.
"I honestly think that people try and age you. I remember watching this race years ago, and watching winners at 32 when I was in my early 20s and thinking, 'he's 32?' I guess you're old and ancient by 32, but when you get there, you're not old at all," McCormack says laughing.