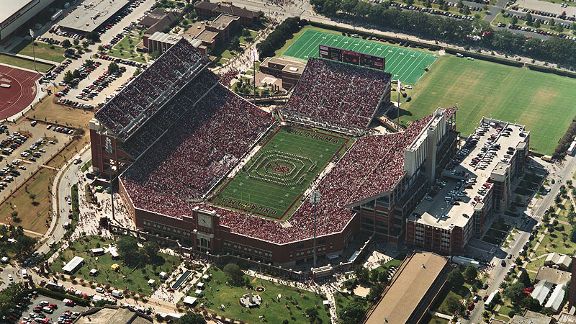 Ty Russell"The best place on earth." It's the sentiment of one Sooners fan describing Gaylord Family-Oklahoma Memorial Stadium that is undoubtedly shared by many among the Oklahoma football faithful.
Photo gallery:
Oklahoma football Pilgrimage

|
Buy Oklahoma football tickets
NORMAN, Okla. -- It's game day at the Campus Corner in Norman, and Oklahoma football fans have been doing their school's nickname proud all morning, arriving sooner rather than later for today's intersectional matchup with Florida State.
It's two-and-a-half hours before kickoff and the Sooners faithful have packed campus-adjacent Asp Avenue like homesteaders awaiting a land run. The thoroughfare has been closed to traffic and turned into a street fair, replete with foot-long corn dogs, beer stands and games of chance. A carnival dunk tank offers the chance to douse a Seminole for charity. And a block away, scores of OU fans have staked their claim to a piece of Oklahoma, remaking South University Avenue into a tailgate tent city.
"The best place on earth," says Oklahoma fan Sean Hubbard, who drove 10 hours from Ruidoso, N.M., to be a part of the festive scene. "The best atmosphere, the best tradition. It does not get any better than this."
Dawn broke unseasonably cool on the plains this September morning, leaving football hanging thick in the air. Across West Boyd Street, a creamy layer of cloud cover drips over Oklahoma's Cherokee Gothic brick campus like vanilla icing piled high on a red velvet cupcake.