In the current social media landscape, our eyeballs are largely glued to what celebrities, athletes, musicians and other persons of interest are disseminating to the masses and how they're engaging with followers and friends.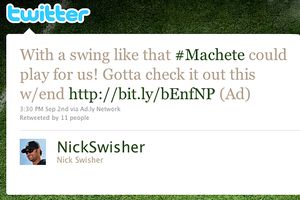 ESPN.comHere's an example of an ad.ly-backed tweet from Yankees outfielder Nick Swisher.
And with millions tuned in to Twitter and Facebook on a daily basis via multiple channels (traditional Web browsing, mobile applications, etc.), they've become essential platforms for brands to keep themselves in the conversation.
But combine a brand looking for social-media exposure with celebrity influence, and it's a strategy where both sides stand to benefit.
And ad.ly is one startup leading the charge.
The company, which started a year ago, generates revenue for influencers (be it a Hollywood celeb, musician, athlete and the like) by placing ads in their social streams.
"Wherever there is great content, there's some sort of revenue model associated with it. But in this case, there wasn't," said Sean Rad, founder and president of the company. "We started ad.ly to introduce a brand into the conversation, and help these athletes, artists and celebrities make money from the value they're creating online, and the value they're creating for the audiences that they reach."