Panini America will usher in the return of some past favorites to the world of hockey card collecting this week as it takes to the ice in its first year as an NHL licensee.
And that means bringing in both some new faces -- and some old names -- that hockey fans should fondly recognize.
First, the new faces …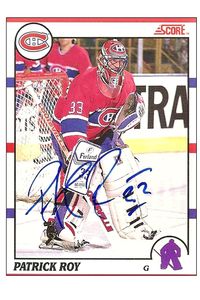 Courtesy of PaniniAn autographed card of Patrick Roy will be in a new packet of trading cards.
Arriving this week is Certified Hockey, which will include the first NHL cards of six players who made their debuts earlier this month. It will include the first card of Edmonton Oilers pick Taylor Hall, who joins Brayden Schenn, Tyler Seguin, Jeff Skinner, Jordan Eberle and Magnus Paajarvi in the set. In fact, Hall made his debut on Oct. 7 and the company announced his inclusion in the set, complete with autographed cards, only five days later.
Unlike other sports, the NHL does not allow a manufacturer to include a players' cards until after he plays in a game. Panini purposely delayed the release of its first NHL product to get some of these rookie debuts in packs for collectors to find.
And the old names?
Panini, which bought Donruss early last year, owns many of the brand names that hockey collectors should remember from the early 1990s. Its second hockey set, which also will arrive this month, is Score, a brand that made its debut to the hockey masses in 1990. Back then, guys like Eric Lindros and Martin Brodeur were highly sought-after rookies as hockey cards appeared primed for an explosion.
While Score is a much different kind of set than Certified -- more than 500 cards and a much lower price per pack -- it will include one thing that just might draw in some of those collectors from the past: actual cards from the 1990 set that have been signed by the game's biggest names.
Among those who signed 20-year-old cards destined to be found inside brand-new packs are Brett Hull, Mike Modano, Pat LaFontaine, Denis Savard and Patrick Roy.
Not a bad crop.