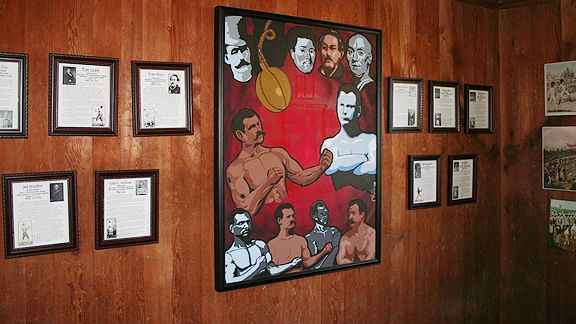 Ryan WhirtyThe Bare Knuckle Hall of Fame highlights inductee plaques and a poster by artist Chris Guzman.
BELFAST, N.Y. -- With a faint, musty smell in the air and sunlight bathing the cramped little room, Scott Burt picked up a ceramic jug and smiled broadly. He stood in what he calls "the cell," a space, complete with iron bars, in a 126-year-old barn that has become the Bare Knuckle Boxing Hall of Fame.
It was in the cell that trainer William Muldoon locked famed prizefighter John L. Sullivan overnight to dry out from an evening of carousing in the local pubs. But Sullivan cleverly hid the booze-filled jug under a trap door in the Spartan room that contained -- and still contains today -- little more than a rugged wooden cot and chair.
That jug is just one piece of memorabilia in the Bare Knuckle Boxing Hall of Fame, where Burt has put together the most comprehensive collection of artifacts from this now-defunct sport. The museum is housed in a pair of barns that Burt moved piece by piece from the grounds of a Catholic church that had owned the buildings for decades, to a small plot surrounded by a white picket fence in a residential neighborhood.
"This is probably the most important thing I've done," Burt said. "We'd like to have something that's still around after we're not."
Sullivan's contribution was being the larger-than-life face of bare-knuckle boxing for six weeks in 1889, before he scored a 75th-round technical knockout over Jake Kilrain in what many consider one of the most important fights in the annals of boxing.