Raptors forward Julian Wright is known for being a solid ball-handler on the court. But it's his ability to control a bowling ball that's turning heads off of it.
"I've got about a 195 average, but now I'm about 180 . . . I had a busy summer so I couldn't get to the lanes," Wright said. "My teammates say they're excuses. They are excuses. That's my excuse."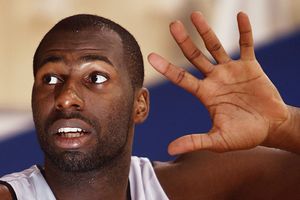 AP Photo/The Canadian Press/Darryl DyckToronto's Julian Wright can work some magic with a bowling ball.
Wright's busy summer included getting traded to Toronto from New Orleans, where his teammates included another bowling fan, Chris Paul.
"Oh man, that's my arch-nemesis," Wright said of Paul.
In fact, Wright said some of their bowling battles were just as competitive as their court clashes during practice.
"One of these days we're gonna have a 250 against a 230," Wright said. "I think we both bring the best out in each other."
Wright started bowling while playing basketball at the University of Kansas where he'd make a beeline for the alley in the student union between classes or after practice to roll a few games and blow off some steam.
What started as a hobby has since turned into a passion. Wright owns four bowling balls -- which he sometimes travels with -- and each ball is designed for different conditions.
"Some of them are on different axes and so it makes it different in terms of the hook," he said. "It could be a heavy hook or a light hook. I have a ball called the "spare ball" that's not weighted on either side so it's gonna bowl straight as long as you bowl it straight."
Wright isn't the only Raptor who has been known to pack a bowling ball in his luggage. Teammate Amir Johnson started visiting the lanes in the mid-late 2000s when Pistons teammate Rasheed Wallace would lead a crew of players out to Detroit-area lanes to help bring the guys closer together.
Years later, Johnson still bowls and has a 160 average.
"Rasheed and those guys were trying to challenge me and I ended up being a pretty good bowler," Johnson said.