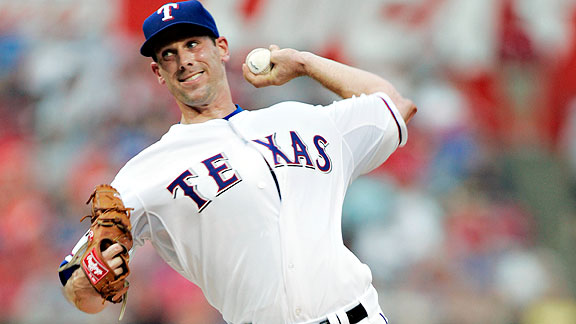 Tim Heitman/US PresswireYou can easily connect Cliff Lee to Christy Mathewson using the Oracle of Baseball.
One of the appealing aspects of baseball is its ties to the past. When we hear arguments like "Cliff Lee is one of the greatest postseason pitchers of all time," baseball fans can evoke images of Bob Gibson or Sandy Koufax.
Baseball-Reference.com has a fun toy it calls the Oracle of Baseball. It allows you to create a "chain" from one player to another via common teammates, a reminder that baseball history is a series of links to the past. For example ...
Christy Mathewson was the preeminent control pitcher at the beginning of the 20th century. He famously pitched three shutouts for the New York Giants in the 1905 World Series. We can connect Mathewson to Lee like this:
Mathewson-Grover Hartley (1913 Giants), Hartley-Rollie Hemsley (1934 Browns), Hemsley-Curt Simmons (1947 Phillies), Simmons-Steve Carlton (1966 Cardinals), Carlton-Terry Mulholland (1986 Giants), Mulholland-Lee (2003 Indians).
Here are a few others involving players in this year's postseason:
• Old Hoss Radbourn threw 73 complete games for Providence in 1884, winning 59 of them. Here's Old Hoss and Roy Halladay, today's top workhorse:
Radbourn-Arlie Latham (1891 Reds), Latham-Rube Marquard (1909 Giants), Marquard-Johnny Cooney (1924 Braves), Cooney-Warren Spahn (1942 Braves), Spahn-Rico Coary (1963 Braves), Carty-Dave Stieb (1979 Blue Jays), Stieb-Halladay (1998 Blue Jays).
• Pud Galvin's nickname was The Little Steam Engine. He was only 5-foot-8 but won 365 games pitching primarily for Buffalo and Pittsburgh in the 1880s and '90s. Let's connect him to Tim Lincecum:
Galvin-Dan Brouthers (1881 Bisons), Brouthers-Nap Lajoie (1896 Phillies), Lajoie-Charlie Grimm (1916 A's), Grimm-Phil Cavarretta (1934 Cubs), Cavarretta-Minnie Minoso (1954 White Sox). Minoso-Steve Trout (1980 White Sox), Trout-Omar Vizquel (1989 Mariners), Vizquel-Lincecum (2007 Giants).
Minoso was a gimmick pinch-hitter in 1980. If you want to exclude him from the chain it goes from Phil Cavarretta to Early Battey to Graig Nettles to Randy Johnson to Lincecum.
• Here's a shorter one. If Josh Hamilton is the Natural, so was Mickey Mantle:
Mantle-Clete Boyer (1959 Yankees), Boyer-Darrell Evans (1970 Braves), Evans-Mike Stanton (1989 Braves), Stanton-Hamilton (2007 Reds).
• One more. Robinson Cano is putting on a quite show this postseason. An early World Series hero was Philadelphia A's second baseman Eddie Collins.
Collins-Doc Cramer (1929 A's), Cramer-Early Wynn (1941 Senators), Wynn-Tommy John (1963 Indians), John-Al Leiter (1988 Yankees), Leiter-Cano (2005 Yankees).
Try your own chains here.