"World Champion" Judah Friedlander runs 250-mile warm-up sprints at the Grand Canyon, dunks on Big Foot and farts on his foes.
In his new book out this month, "How To Beat Up Anybody," the comedian/actor teaches karate tips to fend off ninjas, dinosaurs and someone with three arms.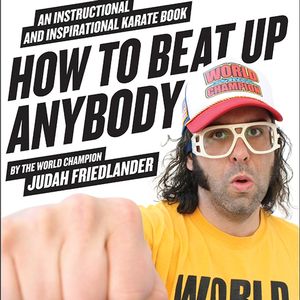 Harper Collins Judah Friedlander offers handy tips for fighting ninjas or battling dinosaurs.
Friedlander plays Frank on "30 Rock" and performs a stand-up act that revolves around his superhuman athletic superiority. In soccer alone, he claims to have scored 30 goals in two games for England as a goalkeeper. And 243 goals for Brazil as a referee.
He tells Page 2 he can even clobber Batman.
How do you beat up MMA heavyweight champion Brock Lesnar?
First, I'd use my height advantage. Then, I'd suplex him out of the octagon and into the crowd. Then I'd collect all the hair he's shaved off his body, roll it into a ball and make him choke on it.
Your favorite superhero?
Every superhero has refused my challenge. Superman actually has a poster of me beating up Batman on his bedroom wall. On a side note, Lois Lane fantasizes about me when she's with Superman.
Usain Bolt on foot?
I beat Usain in a race and I was running backwards. And I only used one leg. In my book, I have 18 photos of me racing cars on the highway -- and winning.
A negligent tooth fairy?
I would not harm the tooth fairy. Money is overvalued. Friendship is more important.
Justin Bieber?
I would slick his hair back -- he'd become so devastated that I destroyed his combover that he'd forfeit the fight.
A yipping chihuahua and make it look like it was an accident?
I don't harm animals. My book is about beating people up in the name of peace and justice.