We're not here to bury baseball but to praise it. The league championship series have earned nice TV viewing numbers. Really nice.
As long as there isn't an NFL game on at the same time, of course.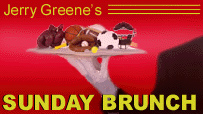 Last Monday Game 3 between the Yankees (the Yankees!) and the Rangers got a nice 6.5 overnight rating. Really nice. But the Monday Night Football travesty otherwise known as the Tennessee Titans' 30-3 rout of the Jaguars in Jacksonville actually did better with a 7.2.
Poor baseball. It's one thing to get beaten by the Cowboys playing the Vikings or some other high-profile NFL game. But Titans-Jags in a game that was delayed by a storm so that 90 percent of the stadium crowd was gone by halftime of a nearly unwatchable slaughter?
Afterward ESPN showed Titans RB Chris Johnson catching a nine-yard pass and analyst Steve Young said: "That's how bad this game was -- that was a highlight."
Yet millions of us watched. Do we need an intervention?
Meanwhile, baseball has a World Series between the Texan Rangers and the San Francisco Giants. Whee.
The World Series will play Game 4 on Halloween night, Oct. 31. And they could be in real trouble because the NFL is countering with, among others, Buffalo at Kansas City. After all, which would you rather watch? (Actually it is much worse as the primetime baseball game will be aired opposite Pittsburgh at New Orleans. You think the NFL did that on purpose?)
And now for a few more bits of tid before we get to the award-winning writers who bring us the main courses of the Brunch: