Bo Jackson has been laying low for a while, but he never was out of the public consciousness.
He's still revered in mythical terms, he's the star of many YouTube videos and of course, there's the legend of his representation in the Tecmo Bowl video game.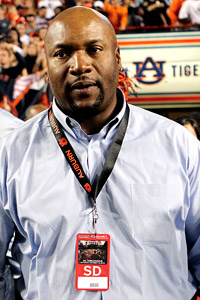 Mike Zarrilli/Getty ImagesBo Jackson watched from the sideline as Auburn scored 65 points against Arkansas on Oct. 16.
"I get a comment about it about once a week," Jackson said of Tecmo Bo.
So, does one of the greatest athletes of all time think it's bizarre that a bunch of middle-aged couch-surfers want to discuss his 8-bit doppleganger with him?
"No, it just lets me know that I still have fans out there, and it lets me know that my peers still remember me and respect me, to be honest," Jackson said. "And whenever they talk about Tecmo Bowl, or anything I do, it makes me feel good."
He even indulges a reporter's heart-wrenching tale of how his copy of Tecmo Bowl was lent to a friend and disappeared forever. Just like the Tecmo Bo we've grown to love, Jackson is unyielding. "Sounds like somebody needs their [expletive] kicked," Jackson said.
Jackson is riding high on the wave of his Auburn Tigers, who just ascended to No. 1 in the new BCS standings. He spoke to the team (and maybe bestowed some of his legend to Cam Newton by holding his hand) on game day when Auburn played Arkansas. He watched the 65-43 victory from the sideline.
What does a legend talk about to his former team?
"I talk about winning. That's all I talk about," he said. "Winning."
Jackson, who recently appeared in a new Nike commercial, appeared at Niketown New York on Friday night to help the company unveil its new Trainer 1.2 shoes, the successors to the original Air Trainer 1 models Jackson endorsed, in his words, "back during the dinosaur days."
He said he's kept a close relationship with the company whose "Bo Knows" campaign made him one of the most famous athletes in the world, and he's happy to come back and take on a more public role again.
"I never left the fold," he said. "I just went on a sabbatical."