BALTIMORE -- Sister Virginia Muller had never heard of shortstop Honus Wagner.
But she quickly learned the baseball great is a revered figure among collectors, and the most sought-after baseball card in history. And thanks to an unexpected donation, one of the century-old cards belongs to Muller and her order, the Baltimore-based School Sisters of Notre Dame.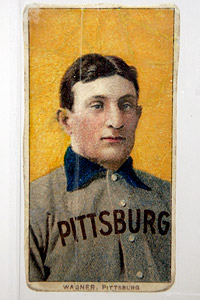 AP Photo/Ric FrancisHonus Wagner cards, such as this one seen in Los Angeles in 2008, have sold for millions.
The sisters are auctioning off the card, which despite its poor condition is expected to fetch between $150,000 and $200,000. The proceeds will go to their ministries in 35 countries around the world.
The card is part of the T206 series, produced between 1909 and 1911. About 60 Wagner cards are known to exist.
A near-mint-condition T206 Wagner card sold in 2007 for $2.8 million, the highest price ever for a baseball card. Muller remains aghast that the 1¼-inch-by-2½-inch piece of cardboard could sell for even a fraction of that.
"It just boggles your mind," Muller told The Associated Press. "I can't remember a time when we have received anything like this."
The brother of a nun who died in 1999 left all his possessions to the order when he died earlier this year. The man's lawyer told Muller he had a Honus Wagner card in a safe-deposit box.
When they opened the box, they found the card, with a typewritten note: "Although damaged, the value of this baseball card should increase exponentially throughout the 21st century!"
The card was unknown to the sports-memorabilia marketplace because the nuns' benefactor had owned it since 1936.