Steve Smith would rather eat cake. Red velvet cake, to be exact. Or cheesecake, he'll take that too.
But because the New York Giants wide receiver wants to continue to have performances like he did against the Cowboys on Monday night (nine catches for 101 yards and a touchdown), he'll instead choose to eat a turkey burger or some chicken skewers. The unique thing is his food comes in a Hollywood-friendly, precooked, calorie-controlled package.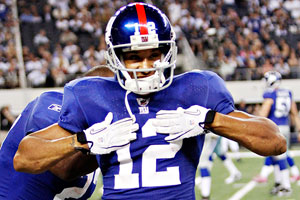 AP Photo/Mike FuentesNew York Giants receiver Steve Smith uses pre-packaged food as part of his fitness regimen.
Smith, a former USC standout, chuckles a bit when he thinks about it -- that he's one of few male athletes who have admitted on record to using a food delivery system that Hollywood starlets order to stay in shape.
He utilizes The Fresh Diet, which has been used by women like actress Pam Anderson and Pussycat Doll Nicole Scherzinger to tone up, but Smith says he doesn't care. It's also the same $40-a-day plan that "The View" co-host Sherri Shepherd used to drop 41 pounds, based on the Zone Diet.
He isn't hiding behind it either; he has been seen photographed with a big bag of the ready-made food that gets delivered to him at his New Jersey home daily.
"In the offseason I use it about every day; it was a really big part of my offseason and it helped me just to maintain and stuff," he says.
Smith acknowledges that he had a great physique pre-Fresh Diet, but he opted to do it because he says he's a perfectionist. He knows that there are loads of other players out there who train hard, but says he needed help with the nutrition part of it, and the diet is convenient for a 25-year-old single guy.
The company is based in Miami, and currently services Boston, Philadelphia, the New York area, Washington, D.C., Los Angeles, San Diego, Chicago and Florida.
Smith also gets regular acupuncture treatments and has a Swiss trainer, who helps him to reinforce his regular regimen.
"We try to strengthen my groin and core strengthening and that's really big. That's what you use pass blocking a lot of the time. The acupuncture is kind of uncomfortable, but it's unique, and it's necessary," he said. "It's going to be a long season."