While the official Miami debut of LeBron James and Chris Bosh was spoiled by the Boston Celtics on Tuesday, the new teammates have already been a big success in their new uniforms on the collectibles scene.
The first Heat cards of James and Bosh that were found in packs of officially licensed NBA cards have fetched as much as $42 in online auctions tracked by Beckett Media.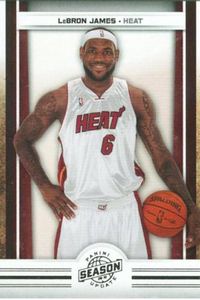 Panini America LeBron James made his Heat basketball card debut in the 2009-10 Panini Season Update set.
Those are prices paid for just standard basketball cards, not ones that include an autograph or a piece of a game-used jersey on the card. That's not bad at all, according to Beckett senior market analyst Keith Hower, and that's the kind of interest that should remind basketball collectors of another elite player.
"The last time a team change for a marquee player had such an impact on the hobby was the return of Michael Jordan in a Washington Wizards uniform," Hower said. "A Jordan Bulls card would typically trade for around $5, but the new uni saw his first Wizards cards selling for upwards of $25 per."
Both Bosh and James made their Heat debuts in the 2009-10 Panini Season Update set, which was the final product before this season's cards arrived. Bosh's card in the set has sold in online auctions for anywhere from 30 cents to $14 with a typical sale of about $10.
James' card has proven to be a bit more pricey -- but still as volatile -- as it has sold for as low as $17 and as high as $42. Hower said a majority of the sales are for less than $30, which is where the card presently sits in Beckett's price guide.
Just in case Heat fans didn't have enough cards to look out for, though, Panini America, the lone licensee of NBA cards, tipped off its season with 2010-11 Panini Prestige series. That product includes more than 20 cards of James and more than a dozen different Bosh cards that just might be hotter once the season is in full swing.